The Friulian cuisine is excellent and has many special dishes prepared with local products. We also realize that for tourists who come to visit it is not always easy to understand what to order and maybe some terms cannot be translated correctly or you want to get an idea of what to eat while you are visiting. Here is a short guide to typical local dishes.
---
Antipasti
Liptauer – The preparation starts with mixing soft cheese (ricotta, stracchino or Philadelphia cheese) with butter, onions or chives, paprika (mild or hot), mustard, capers and anchovies with addition of kummel (better if toasted). There isn't an original recipe but variations linked to the territory, habits and the disponibility of the various ingredients. Liptauer is served in generous amounts on pieces of tasted rye bread.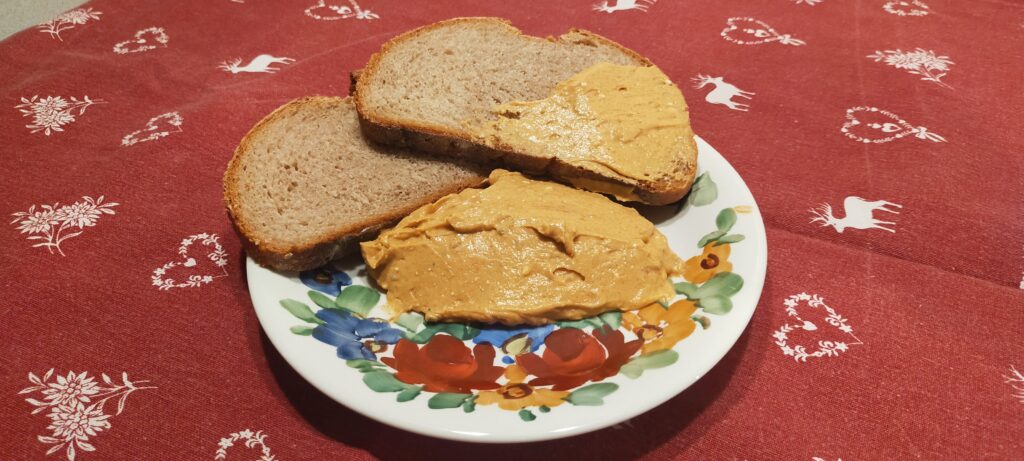 Toc in braide– This dish is prepared with polenta and dip (toc in friulano) made with a fondue of cheese and la morchia (melted butter with toasted corn flour). In addition to the original version it can be found in different variations with the addition of ingredients. An example is shown in the photo where porcini mushrooms were added to the original recipe.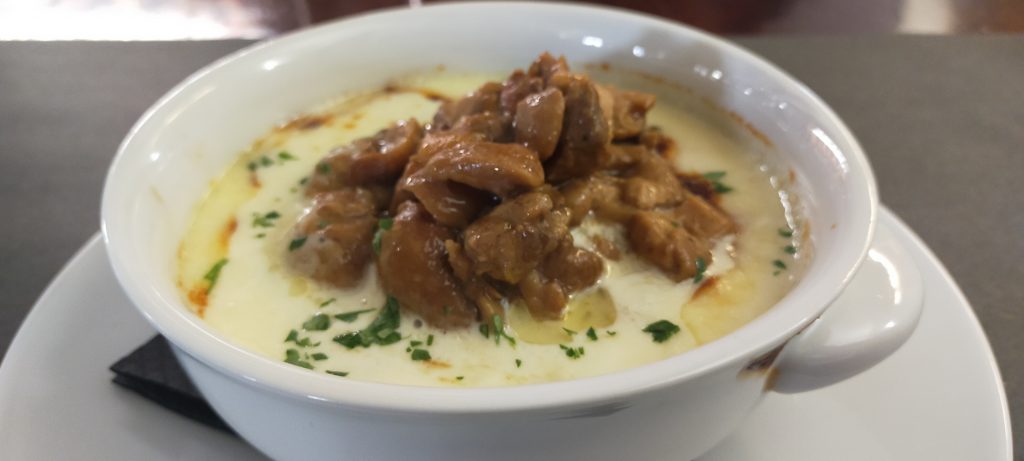 ---
Salame con aceto – This is one of the typical Friulian recipes to prepare during the cold season, in autumn and winter. It is a very hearty dish but a very fast and simple one to prepare, using fresh salami that is cut in big slices without the skin, onions and vinegar. The onion is prepared in a pot until it gets brown, the salame is added and cooked for few minutes. At the end, the vinegar is poured over and cooked all together for at least ten minutes. The dish is accompanied with polenta.
---
Primi piatti
Cjarsons (Cjalsons, cjalzons) [carˈsoŋs] – The "Cjarsons" (if you want to hear how they are read in Friulian click here) is a dish of the popular tradition of Carnia. It consists of a mixture of soft wheat to produce a sheet and cut discs with a diameter of about 5-6 centimeters. The filling is placed on these rounds of dough, which can be sweet (sultanas, dry biscuits, plums or dried figs, cinnamon, nutmeg, bitter cocoa) or salty (fresh ricotta, mint, celery, parsley, marjoram, luisa grass and different spices) but there are over 50 variations! The pasta is then closed in a crescent and cooked in boiling water. Once the pasta has been drained, it is placed on the plate and seasoned with "scuete" (smoked ricotta from the malga) and "ont" (butter cooked until it becomes light brown).



the "Cjarsons" have their celebration day! In Sutrio at the beginning of September the Cjarsons festival is organized which involves the whole town and its hamlets. Here it is possible to taste 10 different types of Cjarsons paired with as many regional wines. Cooking courses and themed menus are also organized in the town's restaurants and trattorias.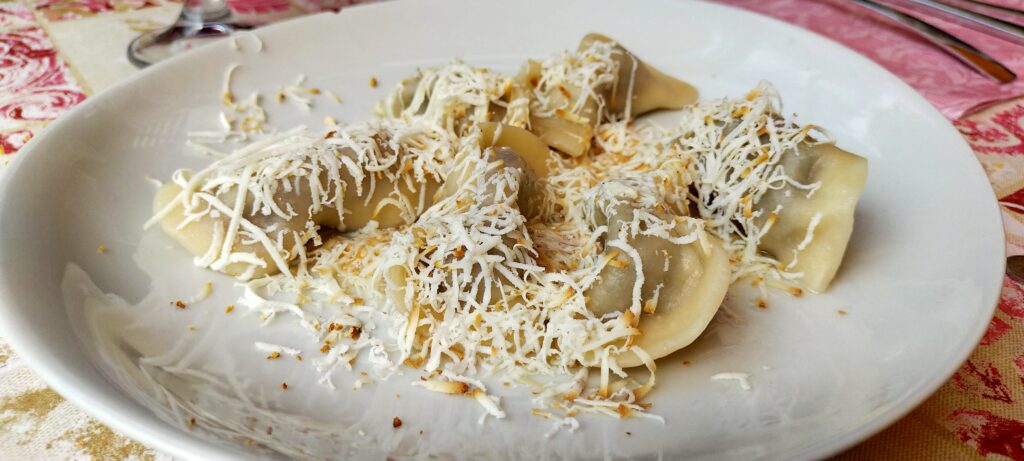 ---
Gnocchi con susine – Gnocchi with plums are made with potato dough stuffed with plums covered with toasted sugar and cinnamon. It is a dish that can be served both as a first course and as a dessert.
---
Jota – The jota is a soup that has ancient origins, in fact its name probably derives from the Latin term "jutta" which means soup and which in turn has its roots in the Celtic language. This dish is prepared throughout Friuli but also in various territories of Slovenia and the Istrian coast. The ingredients of the Jota are beans, barley or corn, potatoes, sauerkraut or the variant with brovada (fermented turnips).
---
Risotto allo sclopìt – Risotto with Sclopìt (Silene Vulgaris) is a delicate dish prepared with the sprouts of the spring plant. The Friulian name Sclopìt derives from the sound emitted by the characteristic balloon-shaped flowers when they are "burst" by children. The Sclopìt is cooked with onion, celery, shallot, broth and a little white wine.
---
Blècs – The Friulian blècs is another typical pasta dish. Blècs are basically maltiagliati made with white flour or buckwheat flour mixed with eggs and butter. They are typically served with game ragout or with butter and they are certainly a dish to fill your belly!
---
Paparot – It is a dish based on spinach and crumbled sausage mixed with yellow flour. Everything is cooked until it takes on the consistency of polenta.
---
Secondi piatti
Frico – It is an original Friulian recipe of the poor cuisine, prepared with just two ingredients, potatoes and Montasio cheese.
There are different ways to prepare frico and the recipe varies based on zones and valleys of the alpine region of Friuli Venezia Giulia.
Frico is always prepared with well boiled potatoes and different aged cheeses (always Montasio!), it is always consumed warm and accompanied with polenta.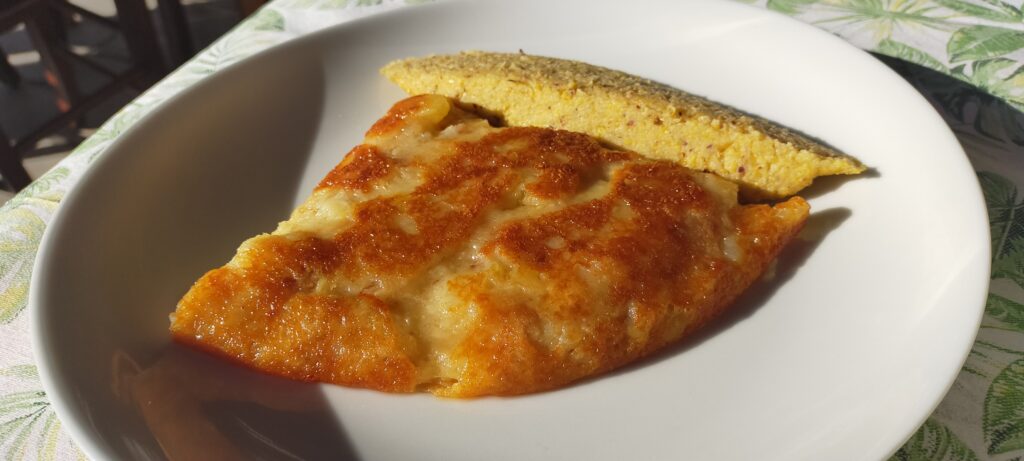 ---
Musèt e brovade – This dish is typical of the Christmas period. The main ingredient is the brovada, an ancient dish already known in Roman times, so much so that it was mentioned in the "De re coquinaria", a collection of first century recipes written by Marco Gavio Apicius. The brovada is obtained by macerating the white turnip cut into small slices in the autumn period as the pomace from the wine production is used. The second main ingredient of this dish is Muset (a sausage similar to cotechino) which is prepared with less noble pork (including the meat of the muzzle, hence the name), flavored with cinnamon, pepper and nutmeg and consumed after maturing for about a month. The two ingredients are cooked separately (the brovada in the broth while the muset is boiled in water, both for about 90 minutes) and then placed on the plates at the end of cooking.
---
Contorni
Brovada – The brovada, prepared using white turnip macerated in the pomace, is an excellent side dish that goes well with meats and Muset and maintains lightness and digestibility. Another (excellent!) use is to prepare soup with beans and potatoes during the cold months.


Brovada is one of the typical Friulian DOP products
---
Patate in tecia – Take the potatoes, boil them in water for half an hour, drain them, cut them into small pieces and cook them again in a pan in a drizzle of olive oil (or lard) with diced bacon, onion and someone also adds rosemary. It looks like a simple dish but the potatoes in the glass will surprise you! The recipe is from Trieste but is often found on menus throughout Friuli
---
Dolci
Gubana – The gubana is a typical dessert of the Natisone Valleys, an area of eastern Friuli, in the shape of a snail with a filling of walnuts, raisins, pine nuts, sugar, grappa. The dessert has medieval origins as the first official note of its existence dates back to 1409 served on the occasion of the visit of Pope Gregory XII to Cividale del Friuli (Forum Iulii). Variations can be found at local producers.


We recommend trying the Dorbolò gubana at San Pietro al Natisone in the variant with walnuts (called "La Cocule"). The directions to reach the shop / laboratory can be found on our map
---
Tiramisù – Tiramisu is probably one of the most famous Italian desserts and has its origins in Friuli around the 40s. There are two hypotheses on the inventor of tiramisu and they see the hotel Roma in Tolmezzo and the restaurant Al vetturino di Pieris contending for the original recipe. Tiramisu is made with the following ingredients: ladyfingers (crumbly biscuits) soaked in coffee and covered with a mascarpone cream, fresh eggs and cocoa. Once you have tried it, you can't do without it!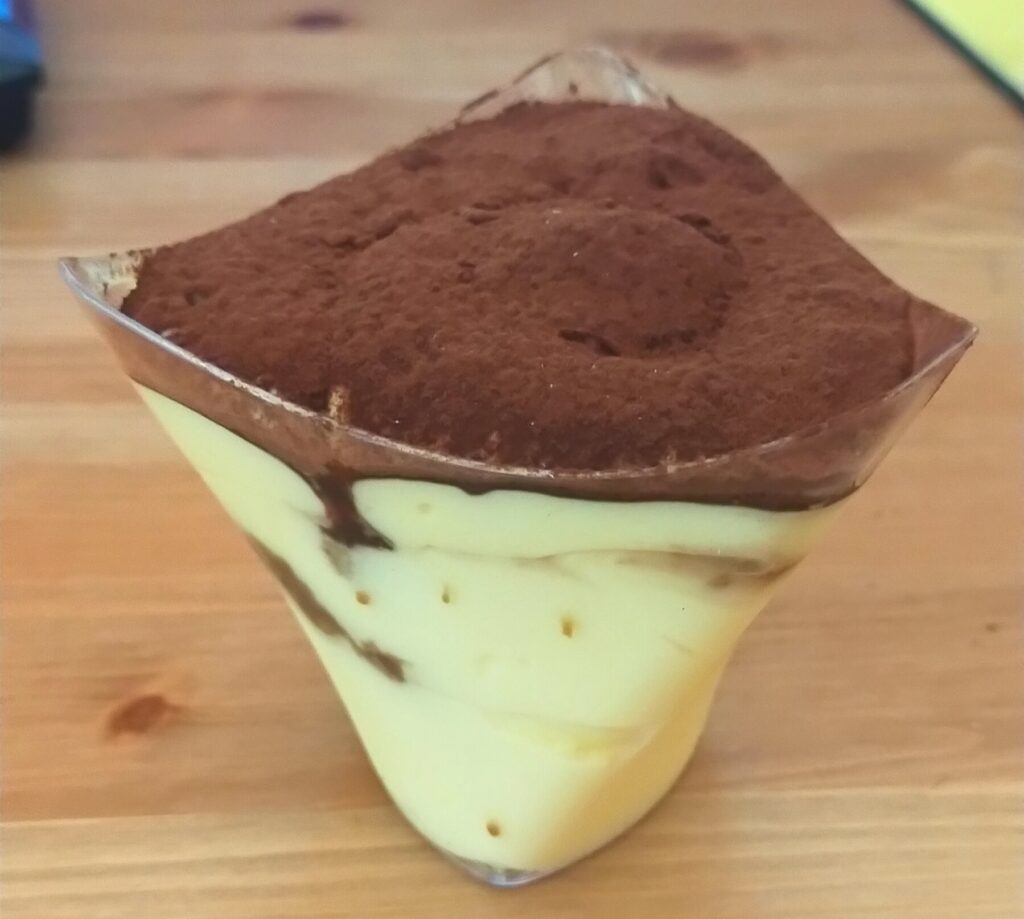 ---
Bevande